How to Use CloudWorks Passport
Have you registered with CloudWorks as a CloudWorks or Car Share Member?
If you have spoken to someone at CloudWorks, you should have received a welcome email that gives you a temporary password.
If you have not received an email, please contact rob@cloudworks.ws about becoming a Member and your welcome email.
Don't click the 'Create account' link in the app - it's best to speak with Rob directly before registering as a Member.
Making a Booking
From the Welcome screen, click on the Bookings link

CloudWorks meeting rooms, Car Shares, etc. are called 'Resources'. Click on 'All resources' to see the menu of resources available to you under your CloudWorks Membership

Click on the date and time at the top of the screen to choose your start time & date for your booking. Once you've selected the correct start date & time for your booking, click 'Confirm'. Then choose the Duration of your booking, then click 'Done'
Now you can scroll through the available Resources at the Date & Time requested. If the Resource is available, you will be able to click the 'Book now' button.

Double check the Date & Time (and Resource) matches what you want and click 'Confirm booking'. A message will pop up letting you know that your booking has been confirmed.

You should receive a confirmation email in your inbox. The confirmation email will include important details like how to access your car or book catering for your meeting.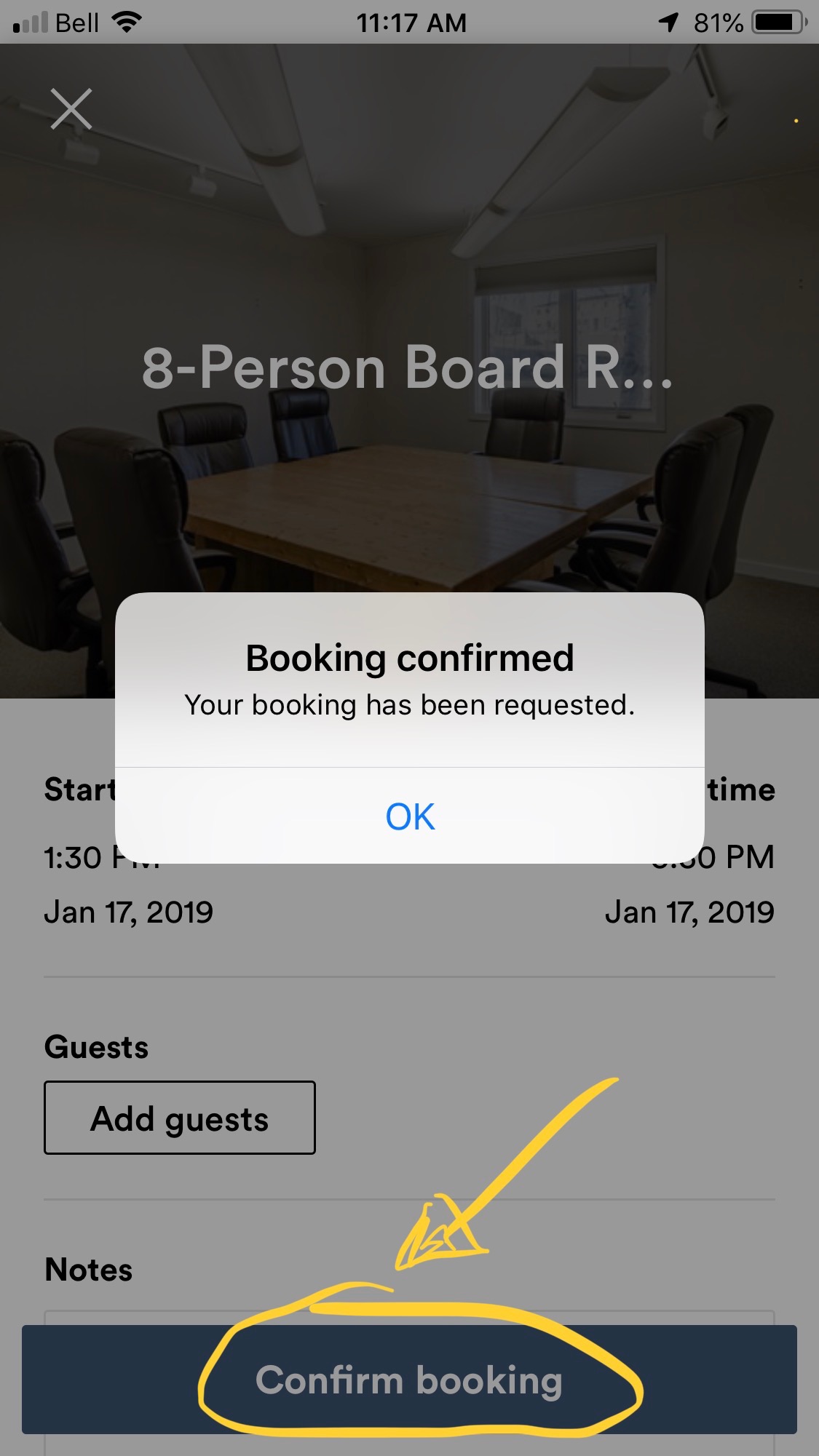 Checking Your Monthly Credits
Most CloudWorks Memberships come with a monthly allowance to credits for the various Resources. For example, each month a CloudWorks Dedicated Desk Member receives $300 in meeting room credits and $45 in Car Share credits. These credits re-load each month.
To check and see how many credits you have remaining, click the 'Account' menu option at the bottom of your screen

Click 'Price plans' and choose the 'Benefits' section